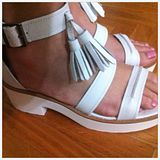 The teens new shoes! rather expensive too..... *sigh*
Off on a secret mission here..... Shhh
Date night Dinner ~ Fettuccine Chicken mushroom pasta YUMMO!!!
My Butterfly mood necklace.
Getting French white tip shellac nails .
chillaxing my down time for the night!
TELL ME WHAT YOU DID THIS WEEK?
Are you on Instagram ? Come follow me here @danniew7
* Linking up with Janet from Redlandcityliving for My week according to Instagram.....
Wanna keep up to date with all the happenings on A Dose of Dannie!?
Well make sure you fill out the newsletter form so you get it weekly!